DAFP's 2016 Annual Scientific Assembly set for April 9, in Newark.
Register now for DAFP's 14th Annual Sports Medicine Symposium, March 10, 2016.
DAFP/NJAFP team offers Practice Transformation Services through State Innovations Model project.
Have you been getting the new DAFP Member Update?
DAFP is proud to be a founding and continuing sponsor of Million Hearts Delaware.
Welcome DAFP Members, Future Members & Friends!
Welcome to the Delaware Academy of Family Physicians' website!
William Funk, MD, FAAFP
President & Board Chair
DAFP is the chapter spotlight in AAFP NewsNow! Read about our work with Million Hearts Delaware.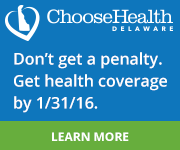 Tweets by @Delfamdoc
CONGRATULATIONS to our 2015 Award Winners!
Each year the DAFP honors members for their outstanding contributions and leadership, and we were pleased to announce the awardees who will be recognized at the Annual Awards & Installation Dinner on May 16, 2015:
President's Recognition

Friend of the DAFP

Margot Savoy MD, MPH, FAAFP, FABC, CPE

Rita Landgraf
Secretary, Delaware Department of Health & Social Services

Teacher of the Year (Christiana Care)

Teacher of the Year (St. Francis)

Stephen Kushner, DO, FAAFP

Robert Monteleone, MD, FAAFP
The DAFP Research & Education Foundation
Click to learn more about the outstanding work our Foundation is doing or to learn more about the Platt Summer FellowshipConsider making a donation to support the continued work of the REF via mail (support the Foundation) or by clicking the link: